Cruise Industry COVID-19 Facts and Resources
As the world continues to address challenges regarding COVID-19, the top priority for the entire cruise community — including cruise lines, travel agents, ports, destinations, suppliers and beyond—continues to be the health and safety of passengers, crew and the communities in the places we visit. Cruise Lines International Association (CLIA), the leading voice of the global cruise community, has developed the enclosed resources to help our members and partners navigate these unchartered waters together, with one voice.
COVID-19 MEMBER POLICY FAQ'S
COVID-19 MEMBER POLICY FAQS
Each enhanced protocol and procedure outlined within the Policy has been informed by the recommendations of leading outside health experts, local and regional governments, and the experiences of CLIA cruise lines that have resumed sailing on a limited basis with enhanced measures in place.

This Policy joins CLIA's Compendium of Member Policies, with all elements of the policy applicable worldwide, except where any such elements are prohibited by law or government authority and wherever there are not more stringent requirements in place from governments and health authorities. These measures will be continuously evaluated against the state of the global pandemic and may change over time as circumstances evolve.


Why is a COVID-19 Member Policy necessary?
The adoption of the COVID-19 Member Policy signifies the cruise industry's continued commitment to leading the way in public health and responsible tourism and establishes a unified approach to planning for a phased and controlled resumption of operations in 2021. The Policy is designed to support continued collaboration with local, national and international governing authorities while maintaining the industry's focus on and commitment to effective, science-based measures to protect public health.
How will these measures help keep people safer from COVID-19 on cruise ships than they were earlier in the year?
Cruise ships have gradually resumed in some parts of the world with science-backed protocols that mirror those outlined within the Policy, including 100% testing for passengers and crew prior to embarkation, physical distancing, mask-wearing, enhanced ventilation measures and strict guidelines for passengers who engage in shore excursions. These measures, among others, are designed to mitigate the risk of COVID-19 in a cruise setting and allow for a quick and coordinated response mechanism, both onboard and onshore. The important thing to note is that this is a continuous process, and these measures will be continuously evaluated and adjusted against the current state of the COVID-19 pandemic.
What are the main components of CLIA's COVID-19 Member Policy?
The COVID-19 Member Policy entails comprehensive prevention, detection and response strategies from the time of booking through the cruise itinerary and at disembarkation. A comprehensive overview of the Policy components can be found here.
How and where is the COVID-19 Member Policy applicable?
As a condition of membership within CLIA, all ocean-going cruise line members with the capacity to carry 100 or more persons onboard are required to implement the COVID-19 Member Policy. The Policy is applicable worldwide, wherever there are not more stringent requirements in place from governments and health authorities
What type of testing will be administered?
CLIA ocean-going cruise lines are responsible for operationalizing the testing requirement globally, including the requirement for a negative test prior to embarkation for both passengers and crew. As testing technology continues to improve, testing methods are likely to vary based on effectiveness and availability.
Will the COVID-19 Member Policy be a permanent CLIA policy?
The cruise industry has an extensive track record of working to protect the health of our guests, our crew and the communities we serve—adopting new measures along the way to continuously improve to make cruising one of the safest and best ways to experience the world. As with all Member policies, the COVID-19 Policy will be regularly evaluated and may change over time as circumstances evolve. Key considerations will likely include the availability of new prevention and mitigation measures, such as testing, treatments and, ultimately, the introduction of an effective vaccine.
When will cruising resume?
Since the first day of our voluntary suspension of operations in March, the cruise industry has remained steadfast in our commitment to making science-led, people-first decisions. While an initial resumption of cruising has begun in some parts of the world with approval from local governments, the COVID-19 Member Policy outlines a phased approach to global resumption, enabling cruise operators to monitor the effectiveness of the new protocols and to make adjustments as warranted. CLIA Australasia is continuing to engage with the Australian and New Zealand governments to develop a framework for a phased, carefully managed resumption in this region. While the current suspension runs to 17 March 2021, the Australian Federal Government has confirmed that the restrictions can be amended or removed at the appropriate time to facilitate resumption.
Even with enhanced measures in place, some cruises have still experienced cases of COVID-19 onboard. How will the COVID-19 Member Policy address that?
Although no setting is immune from the potential presence of the virus that causes COVID-19, the measures contained within the COVID-19 Member Policy are designed to mitigate the risk of COVID-19 in a cruise setting. To date, over 200 successful sailings have occurred around the world with enhanced measures in place and support from local governments. Based on these initial sailings, we have seen that the enhanced protocols are successful at mitigating the risk of COVID-19 when followed rigorously and correctly.
Do you think cruisers will support these changes to the cruise experience?
Our data shows that cruisers are eager to cruise again and are willing to comply with stringent public health measures in order to return to sailing. People have grown accustomed to taking such precautions on land and understand it is a small sacrifice to make in order to experience the joy of cruising while maintaining a focus on the health and safety of oneself and others.
Based upon the findings of proprietary research conducted by CLIA as of October 2020, cruisers are expressing overwhelming support for the types of measures that are outlined within the Global Policy:
93% of cruisers support mask-wearing
92% of cruisers support social distancing
88% of cruisers support COVID-19 testing prior to embarkation.
Will COVID-19 vaccination become a requirement for cruising in the future?
The measures implemented by cruise lines operating in all regions are to be continuously evaluated against the evolution of the global pandemic. The measures implemented by CLIA Members at initial restart may be adjusted as circumstances change over time including the discontinuation or persistence of travel restrictions, updated guidance from cognizant health authorities, low or high levels of community spread, increased herd immunity, new virus strains, and the development and availability of effective rapid testing, treatments and vaccines.
What about geographic scope—the policy provides a macro-level set of requirements. There are certain parts of the world that have lower spread or incidence of the virus. Is there any consideration to bridging or applying different levels of the policy based on need?
What we know from scientists and healthcare experts is that no venue is immune to the virus. The best the world can do—and any industry can do—is to make efforts to reduce the ability of the virus to enter an environment and to mitigate its impact by having rigorous protocols in place that evolve over time as conditions change, addressing prevention, detection and response.
While the initial restart phase of the COVID-19 Member Policy was developed to establish a firm and stringent foundation for the mitigation of the COVID-19 virus in a cruise setting, the Policy was built with the objective to allow for flexibility and may be amended over time as circumstances related to the pandemic evolve.
Does this policy apply to river cruise operators?
CLIA's Compendium of Policies apply to ocean-going cruise line members. River cruise operators are subject to different regulations to Ocean vessels, and they may choose to use this policy as guidance to establish COVID-19 public health protocols that are specific to the river environment.
____________________
_________
USEFUL RESOURCES


Australian Government Support Available


The Australian Government's Economic Response is aimed at supporting households and businesses and addressing the significant economic consequences of coronavirus.
Specific information on eligibility, criteria and timings can be found on business.gov.au and the latest announcements relating to coronavirus can be found on Australia.gov.au and on the Department of Health website. The Department of Health has also released a range of public health campaign materials for businesses to use. Businesses can also phone the Australian Taxation Office Emergency Support Infoline on 1800 806 218 or visit their website for more information.
The Australian Government has also established a number of communication channels for businesses and individuals to provide information, advice and access to resources, these include:

A dedicated hotline (13 28 46) to provide support to small and medium businesses impacted by coronavirus. You can call the Contact Centre seven-days-a-week from 7am to 11pm AEST.
The official government "Coronavirus Australia" app, downloadable from Apple App Store or Google Play.
A WhatsApp channel available on iOS or Android.
Backing business investment
Boosting cash flow for employers
Coronavirus SME Guarantee Scheme
Commercial tenancies and code of conduct
COVIDSafe Planning Tool
Export Capital Facility
Export Market Development Grants Program
Health and safety advice for travel, transport and hotel industries
JobKeeper payment
Increasing the instant asset write-off
Support for coronavirus affected regions and communities
Supporting apprentices and trainees
Support for sole traders
Supporting the flow of credit
Temporary changes to the foreign investment framework
Temporary relief for financially distressed businesses
Work health and safety guidelines and tools
Support for individuals and households
Early access to superannuation
Early childhood education and care relief package
Income support for households
Income support for individuals
Support for the cultural and creative sector
Relief and recovery fund
Australia Council relief fund
Frequently asked questions
Temporary visa work arrangements
Head to health
National Mental Health Commission
Advice for travellers
Current Australian travel restrictions
Department of Foreign Affairs and Trade
Department of Home Affairs
Travel alerts
New Zealand Government Support

_____________________________
DOWNLOADABLE RESOURCES
Select Images to download.
_____________________________
INFOGRAPHIC
Select Image to download.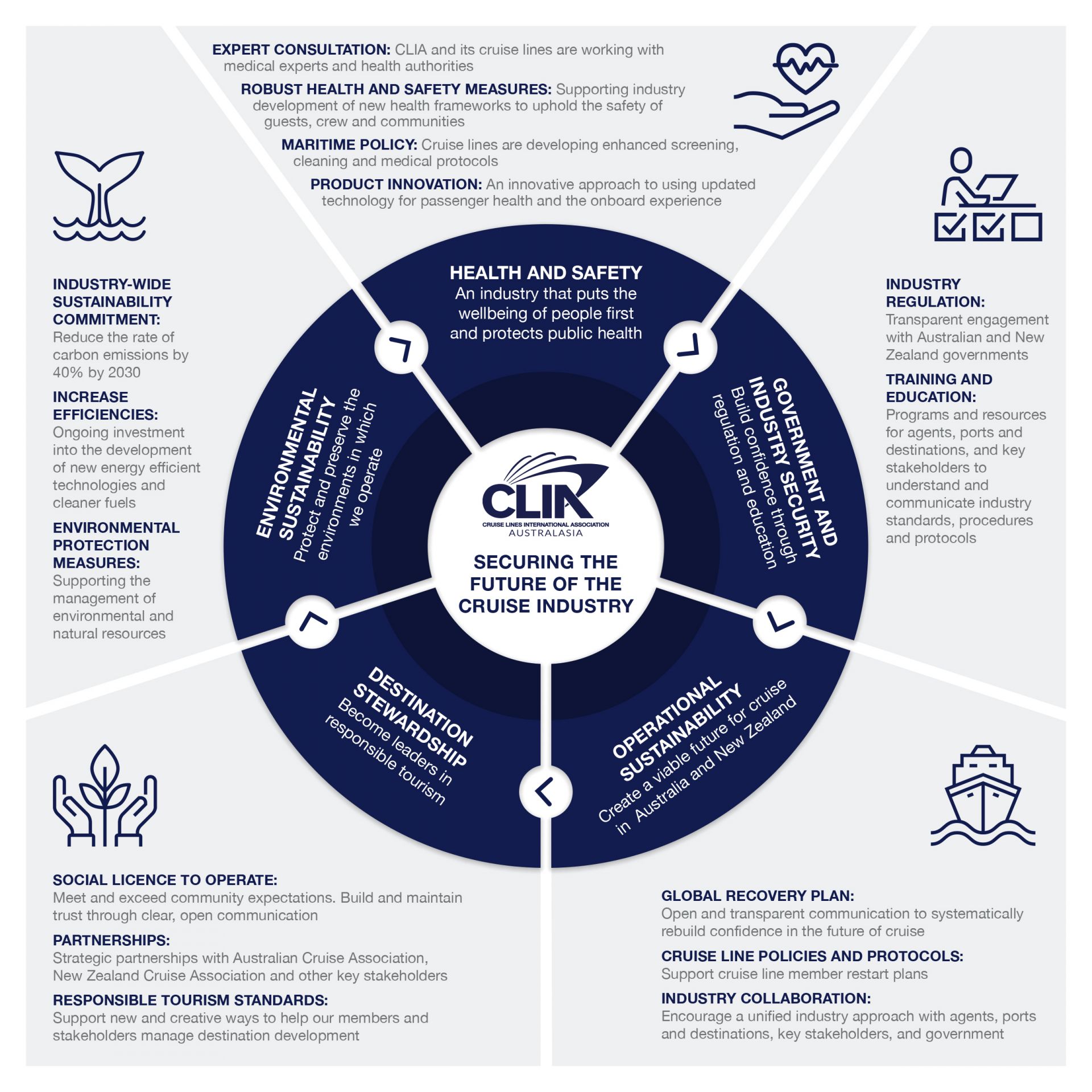 Securing the Future of Cruise
It outlines five key pillars that will support our return to operations and define our priorities as we move forward. It reaffirms where our focus lies, both now and over the long-term, and it outlines strategies that we will ensure we not only bounce back stronger than ever, but we do as in a way that is safe for our guests, crew and the communities we operate within.
Recorded Webinar - Charting the next course
A conversation with CLIA Australasia Managing Director Joel Katz