CLIA Cruise Port &
Destination Showcase
Virtual River
Cruise Showcase
CLIA Luxury
Cruise Showcase
CLIA Cruise Port & Destination Showcase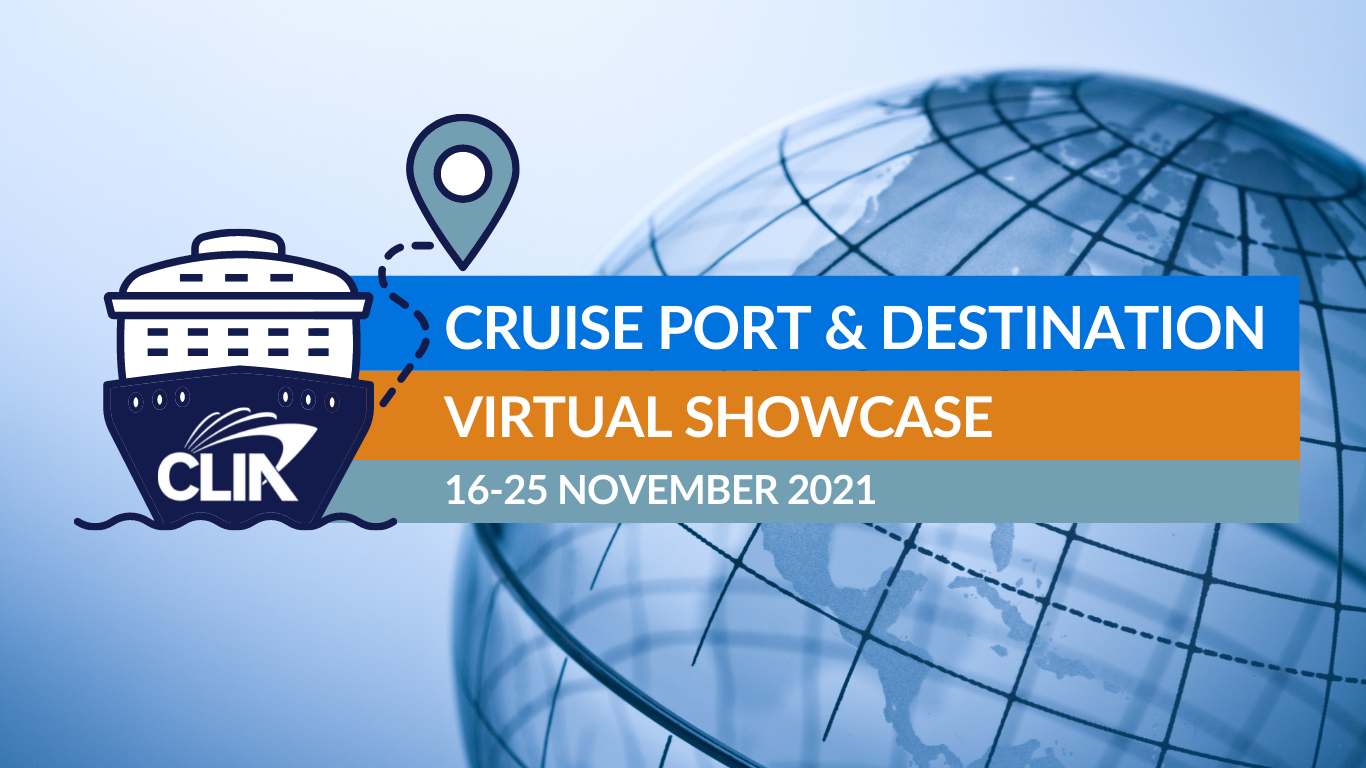 As cruise destinations around the world re-open, CLIA is excited to announce the return of our Cruise Port & Destination Virtual Showcase, to be held between 16 and 25 November 2021.
This is a fantastic opportunity to gain practical insight into some of the world's great ports and cruise destinations, presented by CLIA Executive Partners from around the world. Tune in to learn more about each destination and find out how cruise visitors can make the most of their stay.

You'll gain helpful information about cruise terminal locations, public transport, destination highlights and touring options – plus pick-up valuable insider tips to pass on to your cruise clients.


SELECT HERE
to read more about each of our participating ports and destinations
CLIA's Cruise Port & Destination Virtual Showcase is offered exclusively to CLIA Members!
CLIA Cruise Forum
CLIA invites you to join our Virtual Cruise Forum on Friday 27 August 2021, offering essential insight from regional and international speakers as our industry navigates a path to recovery.


To be held in lieu of the postponed Cruise360 Australasia Conference in Sydney, this forum will provide important updates and an opportunity for our cruise community to unite at this critical time.


CLIA's Virtual Cruise Forum is open to all CLIA Members at no charge and will feature live panel discussions and interviews - each designed to keep you informed and ensure you benefit from cruising's recovery.


SELECT HERE to view the schedule and register for each session
CLIA Virtual River Cruise Showcase
Thursday 4 & Friday 5 March 2021 (2-5am AEDT / 4-7am NZDT)
Wednesday 3 & Thursday 4 March 2021 (Asia - 11pm – 2:00am SGT)


**TUNE IN LIVE OR WATCH ON-DEMAND**


CLIA invites you to join this global event, bringing together River Cruise Operators and experts in the sector, who will share their insight and the latest news on the global river cruise market. Presented across two 3-hour sessions over 2 days, the Virtual Showcase will look to the future and the incredible experiences your guests can be sure to expect.


Each day will begin with a number of keynote presentations from industry leaders. River Cruise Operators will then share bite-size brand updates to make sure you are up-to-speed with the latest product related news.


With destination playing such a crucial role in the appeal of a river cruise vacation, our final hour of each day will welcome you to 2 region-specific sessions, where a panel of experts made up of journalists and representatives from our River Cruise Operators will share their passion for river cruising in Asia, Central Europe & Russia, Western & Southern Europe and both Africa and the Americas.


The aim of the Showcase is to inspire – and you can expect to come away with tales of real-life experiences, ideas on future trends and an appetite to learn more.


This event will be hosted by CLIA UK's SVP, International Travel Trade Membership and Director of UK, Andy Harmer, together with Lucy Huxley, Editor in Chief, Travel Weekly Group UK.


As the showcase is due to run live during the night for the Australasia ad Asia region, all registered participants can tune in live or watch all of the sessions afterwards on demand - at a time suitable to you! Recorded sessions will only be available to access online through to Sunday 21 March 2020 and you MUST register your participation for the showcase in advance by Monday 1 March.


***Limited complimentary registrations are available exclusively CLIA Travel Agent members. The invitation to register for this virtual showcase will be emailed to all travel agent members.***


Be sure to register early to avoid missing out! Joining instructions including an access link will be shared via email with all attendees a few days before the event.
CLIA Luxury Cruise Showcase
The event is now over, please visit
Cruise Toolbox
for all the recordings.
The luxury cruise sector has been among the most dynamic and innovative areas of the global cruise industry over recent years, pioneering major advances in ship design and on-shore experiences. Key luxury operators have redefined cruising in many regions of the world and created enormous opportunities for travel agent partners and luxury specialists.


CLIA Australia's Luxury Cruise Showcase offers CLIA Members the opportunity to hear from some of the most respected brands in this sector, providing insight into how they're confronting the challenges of the post-pandemic environment and an opportunity to hear more about the exciting product developments that continue to set new standards for world cruising.